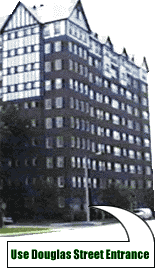 Realty School of Kansas
- Since 1973 -
L. D. Rickard, Owner/Licensed Broker
316- 685-3652
3241 East Douglas, Wichita, Kansas 67218
www.rsk.net
"With Answering Service for Your Convenience"
If you are interested in a Pre-License course for Salesperson or Broker, we can help you NOW via. our home study –Begin Anytime-just call.
Your course permits you to study at your own pace. We have had students complete the material in approximately one week to a month or more, and some do not complete it and may use the information for self-improvement. * We encourage you to complete your course within 90 days, but not later than 31 Dec. of the year of your course enrollment.
We "pioneered" home study in Kansas, because if you miss more than 10% of the class time, you cannot receive a certificate. Likewise, "crash courses" may not provide you with the time you need to absorb the material & regulations. Thus, Realty School of Ks. has tried to make it as Simple – Efficient - & Complete as we can, but you must "study hard" & complete (know) the material using your workbook, and TEXT with questions and answers. We may provide a complimentary class (normally monthly), BUT it is not required that you attend it OR that we offer it. It may be provided as a service and is normally scheduled for a specific date & time; thus, you must call to reserve a seat.
Step"A"-EDUCATION (pre-Lic & Kansas Practice)
Our COURSES are COMPLETE & EFFICIENT....SIMPLY:
Review-Read the assigned material and complete the corresponding questions in your Text (General) using answer sheets AND the State Questions (workbook).

Submit assignments for review &/or grading. After you have completed all the assignments & thoroughly studied the Text (General) and State (workbook & law).

Final Course quiz- ( 70% pass-closed book ) scheduled by appointment with the School and one class session for Broker candidates.
Note: The final course quiz increases your chances of passing the State exam. Certificate awarded.
Step "B"-STATE EXAM (testing service for KREC)
STATE License EXAM via. testing service, after you have completed our course, passed the course exam and received your certificate. Testing service-exam fee is $__________
Step "C" ( license application)
After completing a Pre-License Course (for exam) & Kansas Practice Course (before Licensing) YOU submit/complete an application through/with the Commission/ KREC (State) to activate a LICENSE with the Broker/Company of your choice
All information – terms & prices are subject to change – check with the School
Realty School of Kansas
- Since 1973 -
Course (check) ( ) Pre-License for Salesperson ( ) Pre-License Broker
( ) Other-self improvement Sp. Lic#___________________
________________________________, _______________________ , ___________
LAST NAME (print or type) FIRST ( MI )
Res PH:__________________ e-mail:_________________ Off Ph:________________ Fax___________
Home ADDRESS:______________________________, city ________________, state________ zip_____
Education (High School or GED required for licensure) ( ) High School ( ) College ( )other ________
Real Estate Company & Broker (if applicable)_________________________________________________
*
Home – Office Study Course
Requirements: a ) Read & complete applicable material & questions in workbook/text
b ) Submit all to School for review and/or grading c ) Pass Quiz (70% closed book) for the course: given by appointment with/through the School Note: Broker candidates must complete one (1) class session @the same time (day) you take your final course quiz.
Complimentary class-if applicable-projected for:________________________________
Subject to you calling and reserving a seat-you are NOT required to attend the class, nor is the School required to hold a class session. It is complimentary when provided.
Contract/Agreement for Refund – Course Completion – Conduct – School Policy & Compliance
REFUND Policy & deposits: Realty School of Kansas, hereinafter referred to as "School" shall require a deposit to reserve a seat in a class or full payment for a course. DEPOSITS in excess of $25.00 will be refunded if the applicant applies for a refund in writing, within three (3) days of having enrolled for a course/class & returns all materials in good condition. Requests for refund of monies after three (3) days of reserving a seat or making application for a course, shall not be required by the School. The School may, at the School's discretion, permit monies to be applied to the next available similar type of class or course, if time and space permit. The School shall make no refund for failure to attend a scheduled class or course. . COURSE COMPLETION: * Courses shall be completed within three (3) to ninety (90) days of the date of your enrollment, but not later than the end of the calendar year in the event of changes. At the School's discretion, an enrollment may be extended up to one year. NON PROFESSIONAL CONDUCT: As a condition of enrollment in any class or course, the School shall have the right to dismiss, without a refund, a student from any class or course for conduct that the School deems non professional or disruptive to class instruction or the course. LIQUIDATED DAMAGES: It is agreed as part of your enrollment in a course or class, that any claims shall be limited to the cost of the course & any liquidated damages shall be limited to Ten ($10.00) Dollars. All School forms & regulations shall be automatically amended and conformed to include any subsequent law and/or regulations enacted by the government, or any agency thereof, the State of Kansas, Proprietary Schools, the Kansas Real Estate Commission, or any other agency or local governmental unit of the State of Kansas, which alter or conflict with the terms and conditions of the School as of the effective date of any such laws and/or regulations. The aforementioned or above not withstanding, the School shall retain the sole right & discretion to effect & apply reasonable administration.
Attached: Check in the amount of $____ FOR the course including free text/material.
Agreed and Approved (copy retained) : X_________________________ date_____
All information-terms & prices are subject to change-check with the School